I have a friend called JB – his name is John Bridges but he likes to be called JB by his friends.

To actually describe JB is not easy.

He's got cerebral palsy which makes his movements very sharp, erratic and shaky.

Otherwise, he is such an outgoing person; he gets in and does a job while others are still thinking about it.

JB loves to be joked with, but beware, he is very quick-witted and if you don't like to be made fun of, don't take on JB!

He gets the last laugh even if he has to wait months or years.

Meryl Christian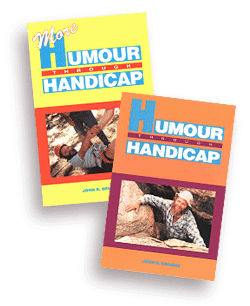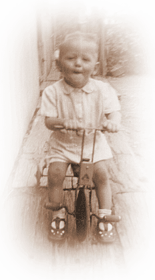 Riding my tricycle at 3 years of age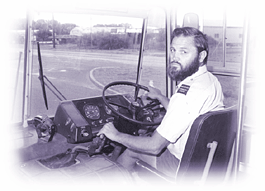 Sitting at the wheel, Yes, I am a local bus driver!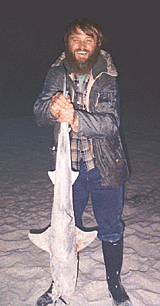 I will try my hand at anything, and fishing is a sport that I really enjoy
I have written two books on humour, and they are entitled
Humour Through Handicap and
More Humour Through Handicap.

Humour Through Handicap shows the humour in life that can be gained despite being handicapped.

A large number of the humorous incidents can be directly attributed to other people who are ignorant of my differences.

Members of the police, particularly those involved in traffic, have come in for some chaffing.

I have been pulled up countless times, presumed drunk, only to lead them on by not telling them that I don't drink, but I do stagger all the time.

Life as a bus driver has also resulted in various strange reactions from people once they realised that I was their driver. I've been fortunate enough to learn how to laugh at myself.

Not only does my sense of humour help me to overcome what could otherwise be an embarrassing situation, it also helps other people accept me as an equal.

Too many people dwell on their hardships. I'd rather turn hardship into humour. I find life so much easier and more enjoyable.


More Humour Through Handicap has many more humorous incidents interwoven into the story, and many of which my handicap held a leading part in the proceedings.


Although the story tells of events since the release of "Humour Through Handicap" it also has another look into those early years.

Family Bereavement has caused a look backwards while a change in life's direction has resulted in incidents worthy of recording.

Attitudes of individuals that I've come in contact with have resulted in amusing occurrences.

The police have again come in for some chaffing, while curiosity has resulted in phone calls from people wishing to remain anonymous.

During my travels in recent years, I've managed to break down some of those barriers that still hold handicapped people distant from the so called "normal" people of the world.